Mitika is an early maturing dwarf milling variety with improved grain quality and disease resistance compared to Echidna and Possum across all rainfall zones. Yields are comparable to Echidna. The grain quality of Mitika meets milling standards. Summarised over all sites and years, Mitika's physical grain quality is similar or an improvement compared to other milling varieties including Mortlock. Groat yield is the percentage of the whole oat which remains after the husk is removed. High groat yield, which relates to commercial milling yield, is a high priority with processors and the highest priority in the selection of milling varieties.

Sowing rate
Typical sowing rates: 60-100kg per hectare. Consult local agronomist/advisor for more local information.
Pest resistance
Consult preferred agronomist / advisor for up to date advice on Mitika's pest resistance and associated management decisions.
PBR
This variety is registered under Plant Breeders Rights (PBR) in Australia. Unauthorised commercial propagation or any sale, conditioning, export, import or stocking of propagating material is an infringement under the Plant Breeders Rights Act (1994). Any breach of this legislation will leave the grower liable for prosecution. Seedmark has an exclusive licence for the production and marketing of Mitika.
EPR
An EPR of $2.00 / T excluding GST is payable on all production excluding farm saved seed
Performance
In trials conducted in South Australia and Victoria over 5 years, it found that Mitika yields were comparable to Echidna and 9% higher than Possum in low rainfall zones. Mitika was found to have similar yields to Echidna across all sowing times. Screenings percentage is lower than all other milling varieties with grain size being better than Possum. Protein levels were found to be high with a favourable groat percentage.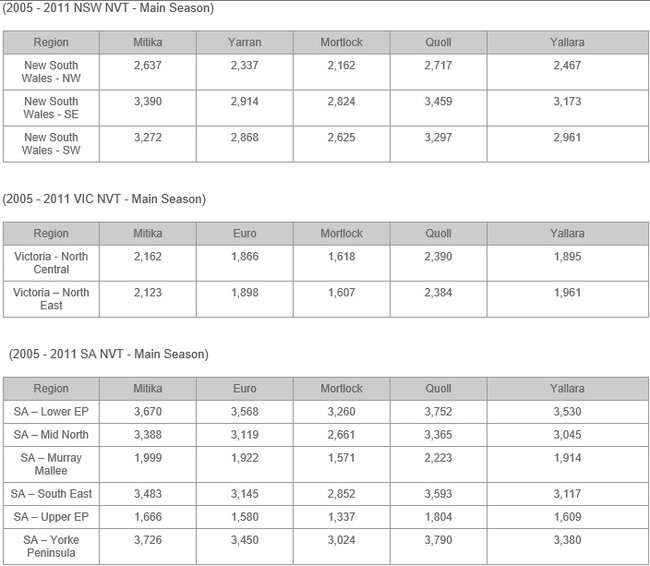 Disease resistance/tolerance
Mitika is an improvement compared to Echidna and Possum for stem and leaf rust resistance and bacterial blight resistance. It is not suited to areas where CCN or stem nematodes are a problem.

Herbicide tolerance
Mitika was tested for tolerance to herbicides by the South Australian Field Crop Evaluation and Agronomy Program at a trial sown at Hart in 2004. There was no effect on yield for applications of Ally, 2,4 D Amine, Diuron / MCPA, Dual / Diuron applied post sowing, pre-emergence Eclipse / LVE MCPA and Glean. Mitika suffered a significant yield loss at recommended and twice recommended rates of Banvel M, Broadstrike, Brominil M, Terbutryn and Tigrex. Possum had significant yield losses for the same herbicides.
Variety management / agronomy
Mitika should be treated in a similar way to other milling and feed oats except where reference has been made to specific issues in this brochure.
Annual rainfall - suitable for low (300mm) to medium (800mm) annual rainfall areas.
Area of adaptation - Mitika has performed well in all rainfall locations where cereal cyst nematode and stem nematode are not a problem. It is well suited to the milling and feed oats areas of southern and central NSW, Victoria and South Australia. Mitika's consistent high yield, improved stem and leaf rust resistance and low screenings should see Mitika replace varieties such as Echidna and Possum in these areas.