Download a copy of the Dictator 2 forage barley factsheet.
Dictator 2 is a specialty forage, awnless (hooded), 2 row barley with dark coloured seed. It has medium green foliage and medium plant height at maturity. It is suitable for grazing, silage and hay production in most Australian production zones.
Key features
15–20% yield advantage over older varieties
Improved early vigour
Excellent recovery from grazing
Shorter stature = Less prone to lodging
Finer stems
Key benefits
Excellent recovery from grazing
Quick feed when sown in Autumn
Multipurpose - Grazing, silage and or hay
Improved palatability
Applications
Dictator 2 is an excellent option for April to July sowing when it is getting late for ryegrass or other pasture options. It is equally effective when used in a mix or as a sole variety and will produce exceptional quality feed. Dictator 2 is also a useful break crop option when looking at a pasture renovation program.
Agronomy and management
Dictator 2 should be grazed once it achieves approximately 300mm in height. Early grazing is useful to encourage tillering and increase dry matter production. Repeat grazings are possible each time the crop returns to the desired height. To achieve rapid regrowth, grazing down to no lower than 75-100mm is recommended. If grazed below this point e.g. 30mm, regrowth will occur, but it will be much slower. The strategic use of nitrogen fertilizer will boost crop recovery, this coupled with correct grazing management will provide the highest yields. It will tolerate multiple grazings until the production of the first node (Z31). Like most other cereal varieties, Dictator 2 will not regenerate after hay cutting once the plant has
moved into its reproductive stage and the node carrying the head is removed by grazing or in a hay cut. A late sowing is capable of providing one grazing and moderate hay cut or one good hay cut. The awnless characteristic allows complete grazing, irrespective of the time of season. If the plant runs to head it produces more palatable grazing, hay or silage than conventional awned barleys, without the associated problems of impaction of awns in the mouth and gut and damage to eyes. Dictator 2 will also tolerate short periods of waterlogging without any significant reduction in production. But if exposed to lengthy periods of waterlogging in mid to late winter and early spring a reduction in production can be expected.
Disease resistance
Dictator 2 has a strong disease package compared to other similar varieties.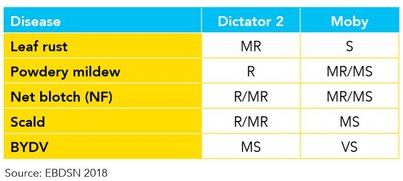 Forage/fodder yield
Dictator 2 has consistent superior dry matter production over similar varieties across 6 years (2013-2018) of trials at Howlong, NSW.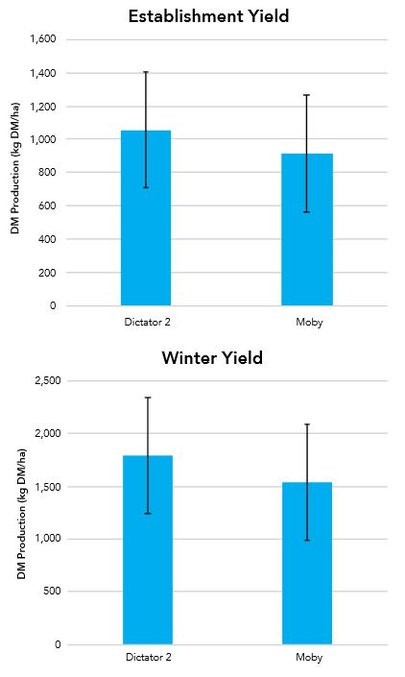 Feed quality

Excellent ME during grazing phase. Best time of harvesting for silage or hay is milky-dough to dough stage. Dictator 2 maintains a relatively low NDF throughout thus offering improved stock acceptance.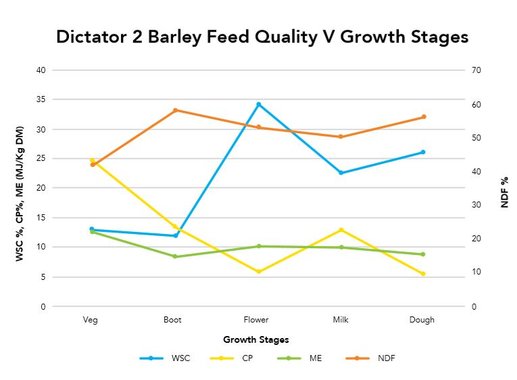 Sowing rate
Marginal dryland: 40 kg/ha Good dryland: 60 kg/ha High rainfall/irrigated: 85–100 kg/ha Sowing time (Australia): Most suited: April–June: Ideal time for 2–3 grazings + fodder production
For fast autumn feed: February–April: Fast autumn feed, possible yield penalty for fodder
Late spring areas: July–October: Excellent late season option for southern most areas
Plant Breeders Rights (PBR): This variety is registered under Plant Breeders Rights (PBR) in Australia. Unauthorised commercial propagation or any sale, conditioning, export, import or stocking of propagating material is an infringement under the Plant Breeders Rights Act (1994). Any breach of this legislation will leave the grower liable for prosecution.
Disclaimer: The information presented in this brochure is from official and other sources and is considered to be reliable. It is provided in good faith and every care has been taken to ensure its accuracy. Barenbrug does not accept any responsibility for the consequences that may arise from the acceptance of recommendations or the suggestions made.