Download a copy of the Magnate forage barley factsheet.
Magnate was selected under Australian conditions at Howlong from crosses performed by Plant and Food Research in New Zealand. Rigorous selection and subsequent trialling have produced a high performing cultivar to replace the popular Dictator 2 variety.
Magnate has higher yield potential, improved disease resistance and is a white seeded, awnless variety.
Key Features:
Forage cereal for southern NSW, WA, SA, Vic and Tas
Cool-temperate climate zones, and areas with extended, humid spring conditions
Quick autumn, winter, and spring feed
Dairy, beef cattle and sheep grazing
Silage and hay production
Replaces all applications for Dictator 2 forage barley.
Key Benefits:
Up to 11% total yield improvement over Dictator 2
Improved early vigour and recovery from grazing
Improved winter and early spring feed – when it's needed most
Erect growth habit for high utilisation and harvest recovery
Awnless (hooded) variety for better stock acceptance
White seeded, two-row variety to assist with reduced contamination concerns in barley cropping areas
Developed and selected in and for southern Australian forage systems
Performance: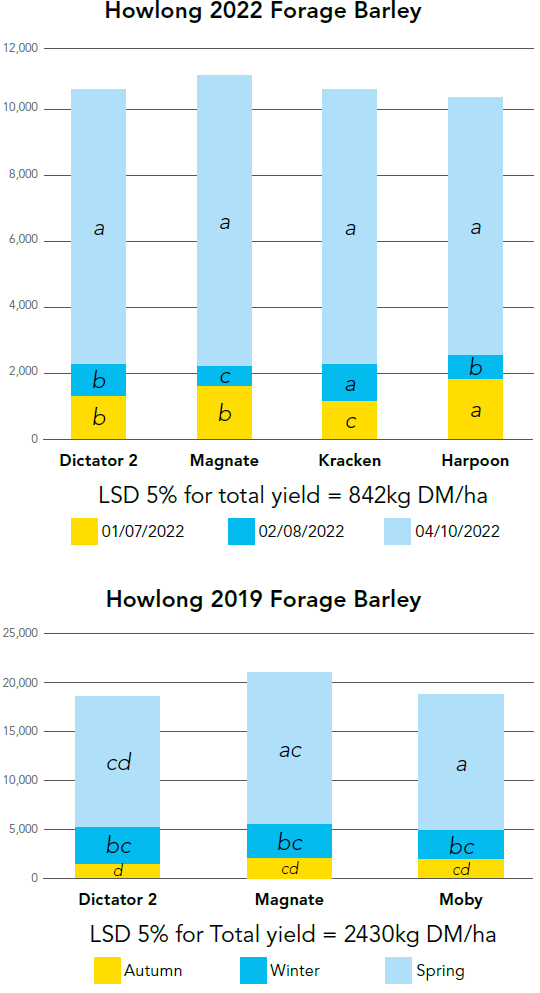 Seasonal yield of most recent fully replicated trials conducted 2019-2022 at Howlong Research Farm.
April or early May sown in each case at 80kg/ha. All figures are as kg DM/ha. Results with same letter are not significantly different.
Applications:
Magnate forage barley is suited to cultivated sowing and to no-till systems. Mid-March to early June is the main sowing window, and there are applications for July-September sowing in very late spring areas. Fertiliser and soil fertility have similar requirements to other cereals and grass pastures. Similar herbicide techniques and systems may be used as per conventional barley. Pre-emergent options may be useful in some circumstances.
A sowing depth of 15-30mm is recommended. Sowing deeper than 40mm may result in reduced emergence.
Grazing & Fodder:
Forage barley should be grazed once it achieves approximately 300mm in height. Early grazing is useful to encourage tillering and thereby improve prospects for subsequent dry matter production.
Repeat grazings are possible each time the crop returns to the desired height. To achieve rapid regrowth, grazing down to no lower than 75-100mm is recommended. If grazed below this point: e.g. 40mm, regrowth will occur, but it will likely be much slower. Use of nitrogen fertiliser will boost crop recovery and, coupled with correct grazing management will provide the highest yields provided growing conditions allow. It will offer multiple grazings until the production of the first node (Z31).
Like other cereals, Magnate will not regenerate after hay cutting once the plant has moved into its reproductive phase and the uppermost node carrying the developing seed head is removed
by grazing or harvesting.
A later season sowing date may provide valuable grazing and moderate hay cut or instead allow for one larger hay/silage cut. If hay or silage cutting is not possible or desired, the awnless nature of the seed head allows complete grazing, irrespective of the time of season.
Disclaimer: The information presented in this brochure is from official and other sources and is considered to be reliable. It is provided in good faith and every care has been taken to ensure its accuracy. Barenbrug does not accept any responsibility for the consequences that may arise from the acceptance of recommendations or the suggestions made.