Download a copy of the Hogan Annual Ryegrass factsheet.
Hogan is Barenbrug's high-performance late maturing annual ryegrass, designed for farmers looking for bigger pasture yields and superior late season quality. Hogan is suitable for grazing, hay or silage, and has demonstrated over multiple years and sites, unmatched performance with production going into early summer.
Key features
Very late maturing tetraploid annual ryegrass

Excellent establishment yield

Late season quality and re-growth

Superior total forage yield in high rainfall areas (> 650mm/yr.)

Key benefits
The late season improved quality (late maturity x ploidy) results in superior silage quality, milk production or liveweight gain when compared to other annual ryegrass varieties

Holds quality for longer, allowing later silage/hay cutting, when more favourable weather is prevalent

Late season growth potential means Hogan provides the ability to maximise production in high rainfall areas and provide significant growth into summer

Excellent establishment yield, results in quick early feed after sowing taking pressure off other areas of the farm & reduces supplementary feed requirements

The increased total yield potential of Hogan provides greater livestock performance and profitability

Sowing rate
For best results sow Hogan at 20-30 kg/ha into a clean, weed-free seed-bed with adequate soil fertility.
Sowing depth: Ryegrass can be sown at 5-20 mm, however if sowing in a mix with clover, try to keep the sowing depth from 5-10mm.
Application
Hogan is ideally suited to regions where rainfall exceeds 600 mm/yr. due to the longer growing period, which maximises the yield potential of Hogan. It is suited to all livestock systems, especially systems that require high yield performance combined with improved forage quality in late spring for uses such as; silage/hay conservation or grazing where optimum milk or meat production in late spring is required. Hogan has also shown that, while being later maturing, it can produce early feed which is important in many systems where feed deficits arise during this period leading into winter.
Performance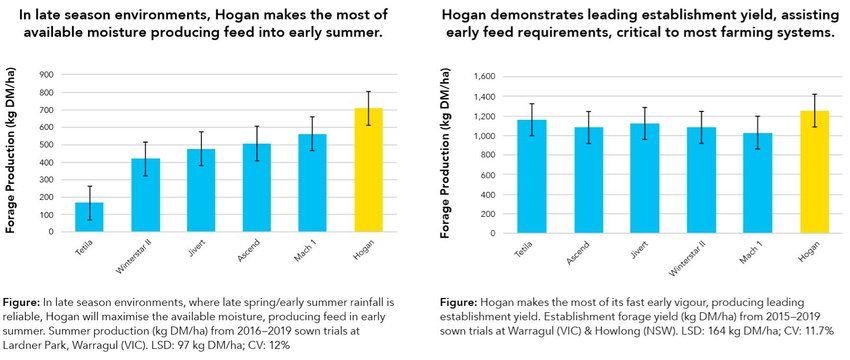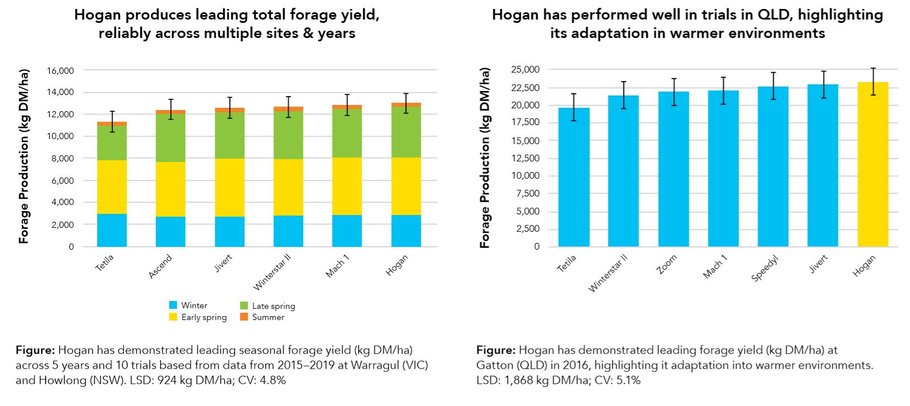 Plant Breeders Rights (PBR): This variety is registered under Plant Breeders Rights (PBR) in Australia. Unauthorised commercial propagation or any sale, conditioning, export, import or stocking of propagating material is an infringement under the Plant Breeders Rights Act (1994). Any breach of this legislation will leave the grower liable for prosecution.
Disclaimer: The information presented in this brochure is from official and other sources and is considered to be reliable. It is provided in good faith and every care has been taken to ensure its accuracy. Barenbrug does not accept any responsibility for the consequences that may arise from the acceptance of recommendations or the suggestions made.