Download a copy of the Maxsyn Perennial ryegrass factsheet.
Maxsyn is our new mid-late heading diploid perennial ryegrass. The combination of Maxsyn and NEA4 endophyte results in a superior cultivar, maximising forage production and seasonal growth, combined with a densely tillered and persistent variety. Maxsyn has shown unmatched performance across multiple sites and years, which has resulted in a reliable performer in all perennial ryegrass regions.
Key features
Mid-late diploid perennial ryegrass
Highest performing perennial ryegrass released by Barenbrug
Excellent warm season growth and heat tolerance
Densely tillered and persistent
Adaptable and reliable over years of testing & development

Key benefits
Unrivalled forage production means Maxsyn will deliver greater returns to your farming system through producing more low cost 'home grown feed'
The season growth curve benefits fill critical feed gaps in both autumn and spring calving/lambing systems in southern Australia, reducing supplementary feed costs
Greater persistence, through the combination of tiller density, genetic background and NEA4 endophyte means less renewal and renovation saving you money & time


Application
Maxsyn has been developed by Barenbrug for over 14 years and has demonstrated; excellent performance, reliability and adaptability across key temperate perennial ryegrass regions. It is particularly suited to 650mm–900mm/yr rainfall environments due to its maturity and persistence but will perform well under irrigation & other high rainfall systems. The high tiller density, while aiding persistence, also makes it suitable for areas prone to pugging, when compared with more open diploid or tetraploid cultivars. Maxsyn is an all-round performer making it suitable for beef, sheep and dairy systems due to its combination of persistence, seasonal growth, overall performance and maturity. Maxsyn's strong seasonal growth in winter, early spring, summer & autumn makes it ideal for farmers wanting to fill feed gaps at those critical periods. Maxsyn compliments later maturing varieties, like Bealey NEA2, by complimenting total farm growth curves.
Agronomy and management
Sow March – June or August/September (reliable areas)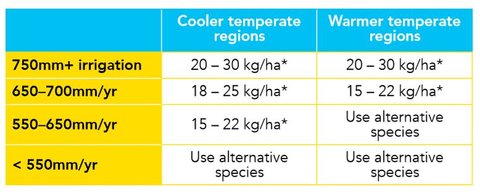 * Higher sowing rates will increase establishment yield but have little benefits to yield post early spring in the first year. In most situations higher sowing rates lead to economic returns.
Graze young plants lightly, once they resist pulling, usually 6–10 weeks after sowing (depending on sowing time & soil temperature). This causes plants to re-tiller & aids first year production.
Re-graze on leaf stage, aiming at 2 ½ – 3.0 leaves per tiller.
Ensure daughter tiller development in late spring/early summer to aid summer persistence and maintain critical ground covers and rotation length (c. >35–45 days in hot summer regions).
Maintain critical soil nutrient concentrations for production & persistence.
Consider sowing Maxsyn with Storm AgriCote white clover (3–5 kg/ha) to provide a nitrogen source & late season/summer quality in paddocks where N fertiliser use is < 200 kg N/ha/yr.
Performance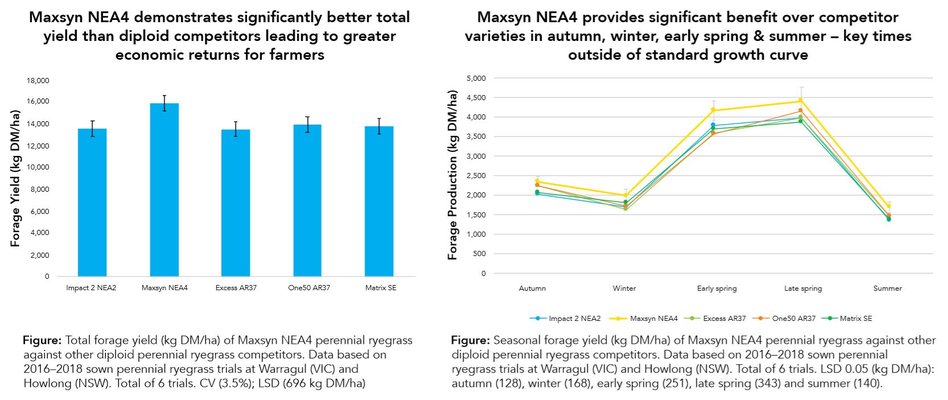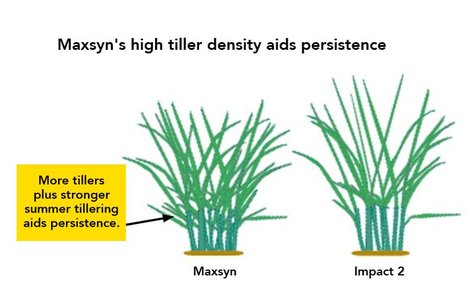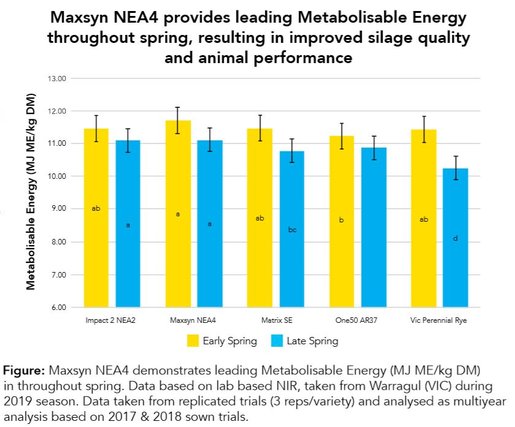 Plant Breeders Rights (PBR): This variety is registered under Plant Breeders Rights (PBR) in Australia. Unauthorised commercial propagation or any sale, conditioning, export, import or stocking of propagating material is an infringement under the Plant Breeders Rights Act (1994). Any breach of this legislation will leave the grower liable for prosecution.
Disclaimer: The information presented in this brochure is from official and other sources and is considered to be reliable. It is provided in good faith and every care has been taken to ensure its accuracy. Barenbrug does not accept any responsibility for the consequences that may arise from the acceptance of recommendations or the suggestions made.