Download a copy of the Fortune Tall Fescue factsheet.
Fortune is a summer active (continental type) tall fescue bred in Australia by the Future Farming Industry CRC. Fortune has been shown to be more persistent than current leading varieties. Fortune also has outstanding forage yield, offering higher winter, early-spring and autumn production. Bred using genetics from the Mediterranean region of Europe, Fortune also exhibits excellent persistence over extended dry summers. Growth characteristics include medium width leaves which are finer than many other typical summer active fescues.
Key Features
Australian-bred summer active tall fescue

Bred for improved survival under hot and dry conditions

Excellent seedling vigour with densely tillered fine leafy growth

Suitable for all classes of livestock

Improved seasonal winter yield and total yield
Key Benefits
Improved survival under hot and dry conditions compared with other summer-active cultivars

High forage yield, improved winter growth and better persistence

Endophyte free
Agronomy & Management
Grazing: Ensure the first grazing doesn't take place until the plants are sufficiently anchored. This can be 6-8 months depending on the sowing timing and climate. Use your hand to pull on the plants at grazing height, if the plants remain in the ground, then grazing can commence. Once established, tall fescue should be rotationally grazed to keep biomass down for best results (and prevent feed quality from declining). Continental tall fescues will require heavy grazing under good growing conditions in spring/summer. Avoid heavy prolonged grazing during particularly dry periods to give stands the best chance of drought survival.
Fertiliser: For best performance, soil fertility and acidity problems should be amended prior to sowing. It is usually best to plant with 60-100 kg/ha of MAP or other starter fertiliser at sowing to provide some starter phosphorus and nitrogen.
Weeds: Tall fescue is a slow establishing species, so reduce the weed burden of a paddock should commence in the season prior to sowing by reducing the seed-set of annual weeds with either a herbicide control or silage. Additionally a knockdown herbicide (such as Glysophate) is the best applied prior to sowing if weeds are present.
Sowing rate: For best results sow Fortune at 8-15 kg/ ha into a clean, weed-free seed-bed with adequate soil fertility.
Sowing depth: Tall fescue can be sown at 5-15 mm, however if sowing in a mix with clover, try to keep the sowing depth from 5-10mm.
Performance
Fortune exhibits strong performance in total yield as well as a significant increase is winter production over competitor varieties. Bred specifically for Australian conditions, Fortune displays superior persistence without compromising yield.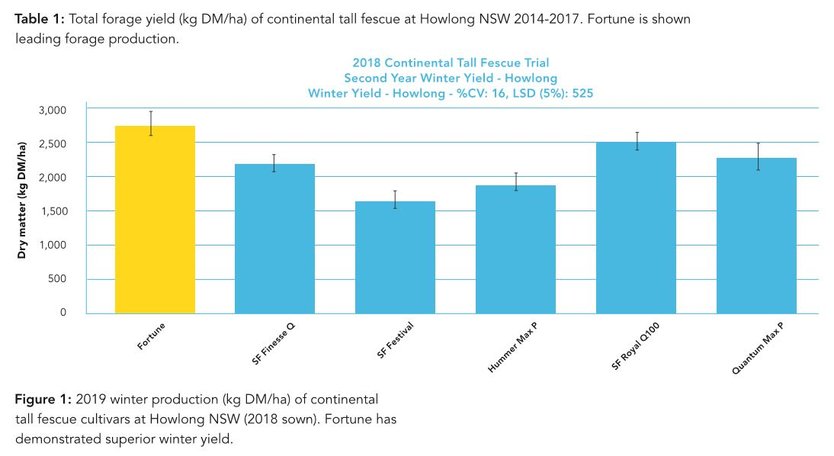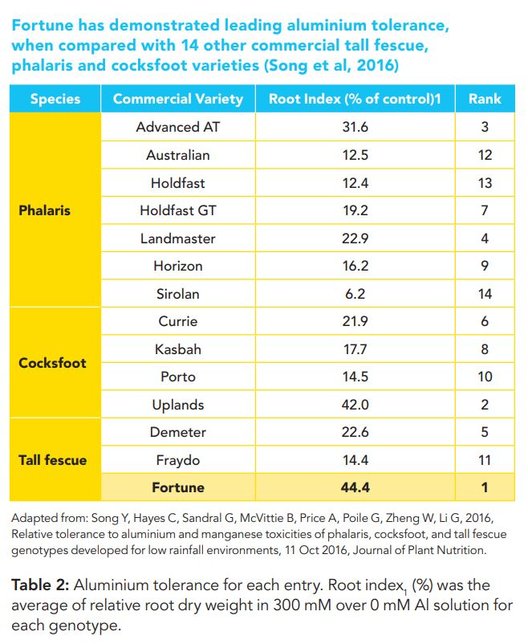 Disclaimer: The information presented in this brochure is from official and other sources and is considered to be reliable. It is provided in good faith and every care has been taken to ensure its accuracy. Barenbrug does not accept any responsibility for the consequences that may arise from the acceptance of recommendations or the suggestions made.