Download a copy of the Revolution BMR forage sorghum factsheet.
The ground-breaking 12 gene brown mid rib forage now delivers new standards in intensive livestock grazing, where feed quality is paramount and a bulk of feed is needed. Revolution BMR is your best option for a highly productive, highest quality summer feed.

Crop story: Wagyu thrive on Revolution BMR forage sorghum.
Product fit
Any livestock producer seeking a highly palatable, high quality feed and lots of it. Revolution BMR is the perfect choice for intensive grazing, quick regrowth, hay and silage.

Key features
Superior 12 gene BMR release

BMR sorghum x BMR sudan sorghum

Extremely vigorous hybrid well suited to early sowing

Safe low prussic acid levels - recommended for early grazing

Fine stemmed and very leafy ideal for hay making and silage

Higher water use efficiency (WUE)

BMR technology may boost weight gain and milk production by around 20%

Contains lower amounts of lignin

Highly palatable
Suggested sowing rates
Marginal dryland: 3 – 5 kg/ha
Good dryland: 8 – 10 kg/ha
Irrigated: 15 – 20 kg/ha
Agronomy & management
| | |
| --- | --- |
| Genetic type | BMR sorghum x BMR sudan sorghum |
| Planting time | Spring to summer |
| Soil temperature at sowing | 16 degrees and rising |
| Seed size/kg | 28,000 - 40,000 |
| Early grazing | Excellent |
| Standover | Not preferred |
| Haymaking | Excellent |
| Green chop | Excellent |
| Silage - pit | Useful |
| Silage - plastic wrap | Excellent |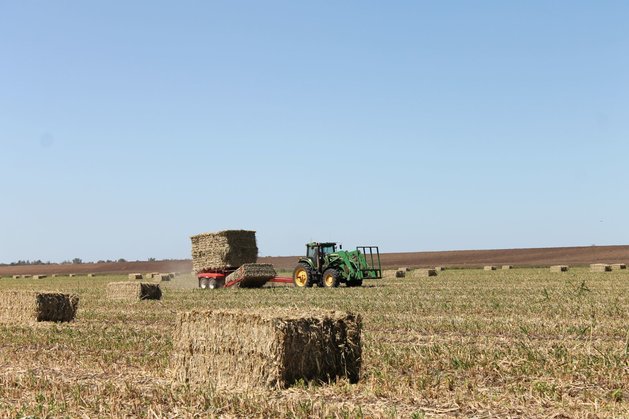 Disclaimer: The information presented in this brochure is from official and other sources and is considered to be reliable. It is provided in good faith and every care has been taken to ensure its accuracy. Barenbrug does not accept any responsibility for the consequences that may arise from the acceptance of recommendations or the suggestions made.