Download a copy of the Liberty grain sorghum tech sheet
Key features
• White grain sorghum
• Semi-open head type
• Medium – tall height
• 75–80 days to flowering
• Mid - late maturity option
• Moderate stay-green (standard spray out practices)
• Moderate lodging tolerance
• Excellent pollen producer (reduces ergot risk)

Advantages
• Large, creamy white grain for improved feed values
• Moderate tillering
• Good seedling vigour
• Easy insect control – semi open head

Key benefits
• White grain for diversified markets (livestock feed rations)
• Water use efficient silage option
• Good drought tolerance
• Well adapted to a broad range of environments
• Reliable and profitable
• Well suited to dryland and irrigation
Attributes chart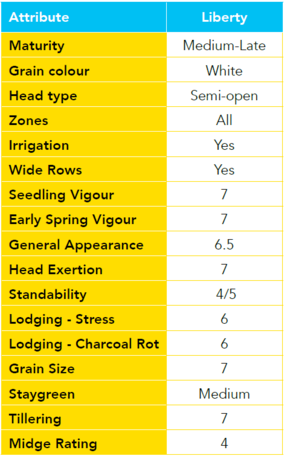 Product fit
Liberty combines all the attributes that growers desire in a white sorghum hybrid - high yield for maturity, adaptability across most environments and improved standability. Liberty is the ideal choice for growers wanting to widen their marketing options or those wishing to add real value when used in their own livestock feed rations. Liberty has the ability to accumulate dry matter rapidly in warm conditions, as well as being an ideal rotation crop that tolerates heat and moisture stress, performing better than most other annual summer crops when soil water is limiting.
Liberty white sorghum for headlage
White grain sorghum is a summer forage option that has been making a resurgence in the silage industry, with producers looking for cheaper and more effective sources of starch due to the reliance on high cost concentrates. Liberty white sorghum is a low cost crop that can be grown well in both irrigated and dryland systems. It is well known for its fast growth and adaption to restricted water conditions. Naturally the highest in starch of all grains, grain sorghum has the lowest starch digestibility due to the tight starch protein matrix in the grain. It is evident that white grain sorghum like Liberty has up to 10% more starch digestibility.
Harvesting as headlage and chopping below the flag leaf, produces a high quality forage source with similar feed value to grain without the need to process through a grain mill prior to feeding.

Why grow headlage
• Higher starch digestibility
• Palatable
• Lower cost source of starch
• No processing required – ready to feed
• Further gains if ensiled
• Retention of stubble improves soil health
• Reduces reliance on high cost concentrates

Seeding rate
• Irrigated 4.5–6Kg/Ha
• Approx. 140,000–200,000 seeds/Ha
• Dryland 2–4.0Kg/Ha
• Approx. 60,000–120,000 seeds/Ha

Harvesting
• Cut below first leaf
• Grain should be just past soft dough stage
• Use a draper style front (Honey Bee) rollers closed up to crack all grain
• Aim for 50–55%DM of heads
• Inoculate @ 1.5X rate of silage
• Demonstration yield – 11.5t/Ha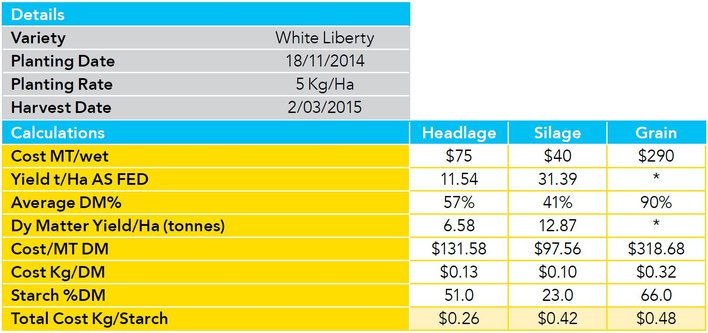 * purchased price delivered


Disclaimer: The information presented in this brochure is from official and other sources and is considered to be reliable. It is provided in good faith and every care has been taken to ensure its accuracy. Barenbrug does not accept any responsibility for the consequences that may arise from the acceptance of recommendations or the suggestions made.