(Suggested sowing rates: New lawn/turf: 300–500 kg/ha)

All tall fescues are NOT the same! RTF® (Rhizomatous Tall Fescue) is a standout in research and development and data show's it is the only true Rhizomatous Tall Fescue. Beware of imitations. Turf Saver® RTF® is the most advanced, unique turf tall fescue blend on the market. Featuring a unique combination of high quality turf-type tall fescues and RTF varieties, Turf Saver RTF is a problem solver. Providing the benefits of rhizomes not found in any other tall fescue varieties, Turf Saver RTF has the ability to quickly fill in damaged and bare spots in your lawn with new shoots of grass. This results in less over-seeding, fewer weed problems, no wide-leafed clumps of grass like other tall fescues can form, but a year round dense lush turf.
Download a copy of the RTF Turf Saver factsheet.
The RTF advantage
Has highest number of rhizomes

Has longest rhizomes

Deep root system

Dark green colour
Key benefits
Repairs itself: Turf Saver RTF's rhizomes fill in bare areas in thinning turf stands

Saves on over-seeding costs of damaged turf

Promotes deep-rooting plants, with great tolerance to heat and drought conditions

Saves on water and irrigation costs

Produces a dense, lush green turf

Application
RTF Turf Saver is a turf fescue suitable for:
Turf Farm sod production

Home lawns

Landscaping

The technology behind Turf Saver RTF is protected with a US patent, #6677507. Its value over traditional tall fescue varieties is substantial. Check to ensure your seed supplied is the true RTF.
Management
RTF is well suited to all temperate regions of Australia. This variety performs best on well drained, fertile, soils. It is recommended to mow lawn at a height of 50mm or higher.
Establishment
Seed can be drilled or broadcast ideally at 5mm and no more than 1cm deep. Seed to soil contact is important for successful germination. Ensure seed is supplied with adequate irrigation with frequency of cycles during the day dependent on temperature. The first watering it is recommended to give seed a good soak to penetrate the seed walls - seed must maintain close contact with wet soil for about 5–7 days to gain a good germination.
Fertiliser
At sowing an application of a quality starter fertiliser is vital for strong plant and root development. A suitable analysis of 18:10:9 at a rate of 200–240 kg per ha.
Irrigation
Once the plant is established, water as needed to prevent drought. A dark bluish grey colour, footprinting, and wilted, folded, or curled leaves indicate that the turf needs water. Sandy soils often require more frequent watering.
Weed control
The application of pre-emergence herbicides once the plant is well established is recommended weeds. Do not apply pre emergent herbicides before or during the establishment stage. Speak to your local chemical supplier on recommendations and timing.

Use Less water with RTF Water Saver
Recent studies at New Mexico State University prove the RTF maintained it's high turf quality all summer long – even under 30% drought conditions. RTF performed extremely well in this trial – and it's performance was the best in the hottest months.
RTF is able to stay lush and green under conditions where 30% less water was used. Tall fescue is recognised as being more drought tolerant than most other species due to it's deep rooting ability. RTF is one of the deepest rooting varieties available. It's roots can dig as deep as 2metres tapping into water not normally available to other varieties and species. In addition RTF has been selected for drought and heat tolerance and is endophyte enhanced which gives it an advantage that is unparalleled in the industry.
"Strathayr Turf Systems have been using Barenbrug RTF seed for the last 5 years, and what stood out to me was RTF's ability to produce rhizomes way in excess of any other variety. So much so that I would say it would be the only, truly rhizomatous turf tall fescue on the market. With the rhizome nature and its ability to establish quicker" Frank Casimaty, Managing Director.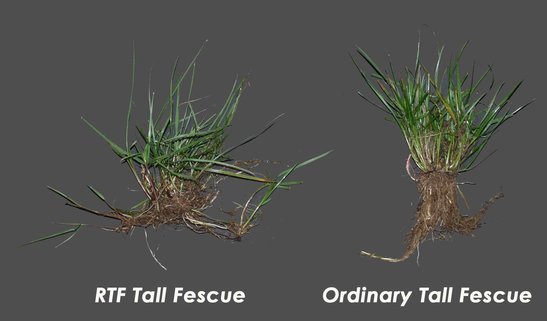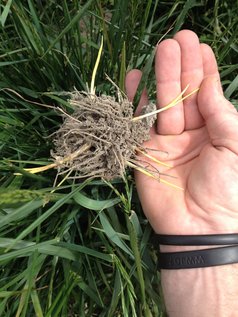 Disclaimer: The information presented in this brochure is from official and other sources and is considered to be reliable. It is provided in good faith and every care has been taken to ensure its accuracy. Barenbrug does not accept any responsibility for the consequences that may arise from the acceptance of recommendations or the suggestions made.