Barenbrug at BEEF Australia 21
It's been three big years for us since BEEF Australia 2018!
We changed our name from Heritage Seeds, have invested heavily to support the Australian beef industry and added to our team of experts (including our yellow cows). That's why this year's Beef Australia is going to be a 'brugging' big one for us.
We are one of Australia's leading seed businesses with a strong research and development focus, with significant programs being conducted at our facilities in various regions across Australia. We also partner with leading national and international agricultural organisations to undertake collaborative plant breeding and research, coupled with our seed coating technology, to ensure our customers grow the most productive varieties to maximise farm output.
Find us at either the Elders or Nutrien Ag Pavillions, where you'll be able to talk big pasture productivity and homegrown feed options.
We have an exciting week planned and here is an example of what you can expect when you visit us!
Become a local celebrity by getting your Polaroid selfie on our "Wall of Fame'. Polaroid cameras will be available on site to take your photo and stick to our Photo Board OR share it to your own fans on social media using our special event hashtag #BBBEEF21. Daily prizes up for grabs so get your cameras ready!
Daily giveaways! Your chance to win 1 of 5 Engel MTV 40L Fridge/Freezers valued at $1,674. Visit our team to get your entries in.
Get your hands on our Limited Edition, event collector items available when you visit us. This year we have also partnered with Drought Angels and all proceeds from our "Fiver for a Farmer" promotion will support their charitable initiatives, like assisting those affected by the recent floods.
Look out for 2 of our life size yellow cows that will be getting around the BEEF21 event. Why not post a pic of yourself with them and engage with us during the event using our #BBBEEF21 hashtag.
Barenbrug staff will be on stand offering FREE advice. Come visit us and find out how our dedicated team of experts can help you achieve sustainable herd development and meet your pasture production goals.
For all you need to know about BEEF Australia 2021 and more, visit the website https://beefaustralia.com.au/ or download the app DOWNLOAD THE APPLE BEEF21 APP or DOWNLOAD THE GOOGLE (ANDROID) APP . Tickets are also available for purchase here https://eldersrural.com.au/beef21/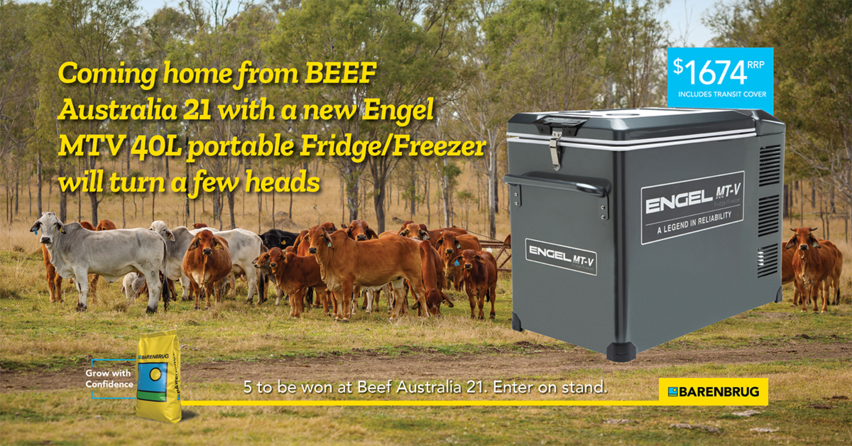 Fiver for a Farmer
It's easy to see that Aussie farmers have had it tough! The recent devastating floods are just the latest of a string of events that has seen many farming families needing urgent assistance again, but there is light at the end of the tunnel!
As part of BEEF WEEK 2021, Barenbrug are partnering with a fabulous Non Profit Organisation called Drought Angels. Despite what their name suggests, these "Angels" not only provide aid to those impacted by drought, but natural disasters too, just like the recent floods. Their vision is to ensure our Australian agricultural industry is sustainable, preserved and thriving for the benefit of everyone – and it's one that hold true for us at Barenbrug too!
On each of our Barenbrug sites at Beef Week 2021, we'll have a collection of yellow Cattle Drafting Sticks available for sale. By supporting us with a donation of $5, you'll not only receive one of these handy drafting sticks but you'll also be making a difference to a farming family in need, as ALL PROCEEDS from this initiative go to 'Drought Angels'.
So show your support at BEEF WEEK 2021 by visiting our stand at either Elders or Nutiren Ag Pavvilions, snap a photo or yourself with your friends, tag us @BarenbrugAUS & @droughtangels plus use our special event Hashtag #BBBEEF21. Alternatively, you can donate directly to Drought Angels here https://linktr.ee/droughtangels.
At Barenbrug we want to see all farmers #growwithconfidence, so we Thank You for supporting us to do this with help from Drought Angels.