Hear Barenbrug Tropical & Summer Crop Portfolio Manager, Ben Vercoe & Deborah Hill chat about Cracka Grain Sorghum and the benefits + opportunities available to growers when they choose this variety to #growwithconfidence.
Download a copy of the Cracka grain sorghum factsheet.
Key features
Semi-open head type

Medium height

70-72 days to flowering

Mid maturity option

Excellent seed size

Low-moderate stay green (dries off well pre-harvest)

Good lodging tolerance

Well suited to dryland and irrigation
Key benefits
Handles tough conditions

Well adapted to a broad range of environments

Reliable and profitable

Solid performer year-in, year-out
Advantages
Moderate tillering

Strong seedling vigour

Easy insect control – semi open head

Good standability
Crop story: Cracka - Good grain sorghum when it is tough going
Product fit
Cracka shows superior standability over a range of different growing conditions and soil types, doing best in a yield environment of 3–6 t/ha. Less lodging means an easier harvest and less grain loss. With low stay-green characteristics, Cracka dries off well before harvest. A medium to high tillering variety, Cracka achieves its yield potential without the need to plant more seed. Cracka has shown consistent test weights in tough conditions, consistently going above the threshold for Sorghum 1 classification.


Attributes chart

Suggested planting rates

NVT sorghum performance data 2020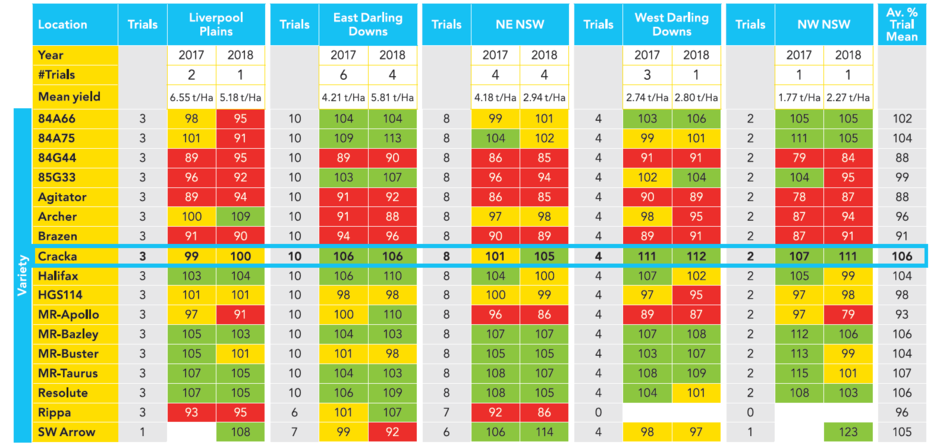 Pest Resistance
Following this link to learn more about the Sorghum Midge Testing Scheme www.grdc.com.au/SorghumMidge
Disclaimer: The information presented in this brochure is from official and other sources and is considered to be reliable. It is provided in good faith and every care has been taken to ensure its accuracy. Barenbrug does not accept any responsibility for the consequences that may arise from the acceptance of recommendations or the suggestions made.