HM-114 corn from Barenbrug offers high yields and quality
Corn growers searching for a true all-rounder, suitable for grain or silage production, should aim to get their hands on a variety called HM-114 this summer.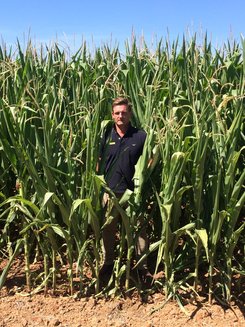 Hitting a real maturity sweet spot, the Barenbrug variety offers a combination of good standability, sowing flexibility and high silage quality according to Landmark Agronomist and Manager of the Echuca Branch, Brad Caldwell.
Mr Caldwell's experience over the past two season has been very positive. It's shown that when managed to capture its potential, HM-114 has high-yields coupled with high quality.
Tom Adocks is one of Mr Caldwell's clients that last summer tried the corn variety with great results. Mr Adocks and his wife Emma milk 900 cows off their 1300-hectare farm at Rochester in central north Victoria.
He grew 60 hectares of HM-114. Fifty hectares was grown with overhead sprinkler irrigation and 10 hectares was flood irrigated. All was chopped for silage.
"The flood irrigated paddock yielded 21 tonnes of dry matter per hectare with about 35 per cent starch content. The 50-hectare overhead irrigation paddock yielded an average of 24.5 dry matter tonnes per hectare, and just on 40 per cent starch. "It was a brilliant result and the best silage we've made in a long time!
"There may be some varieties out there that will yield a bit better, but the amount of starch in the feed test was really pleasing to see. We're happy to forgo a bit of yield if we get a better starch content," Mr Adocks said.
Mr Caldwell advised that high yielding corn crops needed close attention to nutrition to feed their potential. "Key things to consider with HM-114 is that with its maturity window, growers need to plant it on time, so in this area they should be looking at an early November sowing," he said. "The nutrition has to be right and growers need to manage irrigation, in particular late in the season with irrigation through to maturity to dry down the crop naturally, so it doesn't suffer a yield penalty. "I'd recommend growers start with soil testing. If there is any need for soil amelioration like gypsum or lime, they should do that up front.
"It's common to start with a composted manure if it's readily available, before sowing the seed with around 250kg/ha of DAP.
"Depending on the system, around 500 kg/ha of urea would be added throughout the season, whether that's deep banded or applied with the irrigation. It really depends on the farm setup. Potassium nutrition is also important.
"The manure helps with the nutrition as it breaks down and leaves the soil in good health at the back end of the season.
"With big tonnages coming off corn silage paddocks, manure helps to make sure the next crop is not affected by low nutrition.
"Most growers in this area use cow manure because it's readily available, but it doesn't really matter if it's pig or poultry manure. Composted manure is best," Mr Caldwell said.
"There is a cost associated with high rates of animal manure, but we find we get it back in spades, not only in the corn crop, but in the following crop as well," Mr Adocks added.